Treatment procedure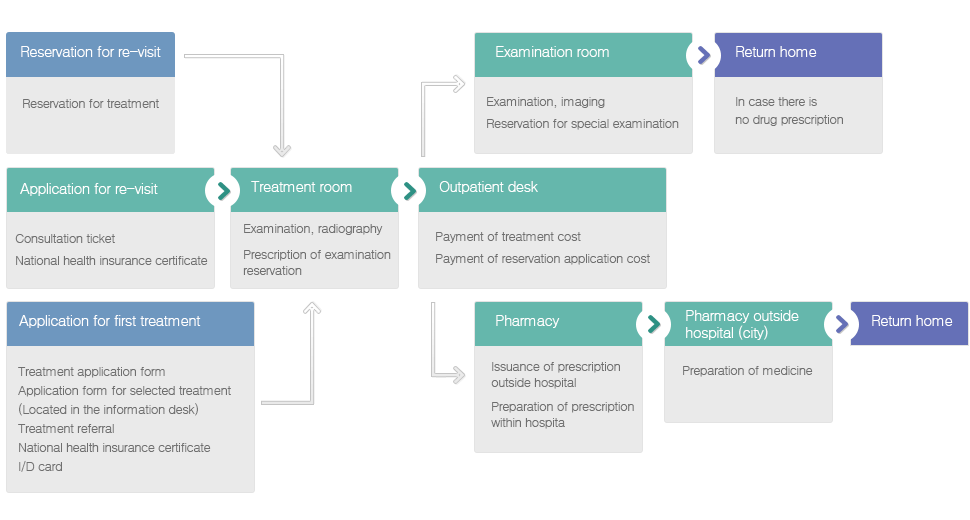 Outpatient treatment
Chosun University Hospital is a general specialist medical care institute, a Stage 2 treatment institute.
When receiving treatment from the Main Branch, [Medical Care Expenses (Treatment) Referral] issued by a primary or secondary treatment institute or [Medical Report] with abnormality found after a medical check-up must be submitted to receive National Health Insurance benefits.
The validity period of a Medical Care Expenses Referral is 7 days and the medical report (result notification) is 60 days from the notification date.
Exceptionally, regardless of treatment rights, National Health Insurance can be applied to the treatment without Medical Care Expenses Referral in case of emergency patient of 2 departments (rehabilitation medical department, family medicine department), childbirth patient and hemophilia patient. (For outpatient treatment after emergency treatment, childbirth and examination before childbirth, Medical Care Expenses Referral must be submitted to receive National Health Insurance benefits.)
- Weekdays : Summer (Mar.~Oct.) 08:30 ~ 17:30 / Winter (Nov.~Dec.) 08:30 ~17:00
- Saturday : 08:30 ~ 12:30
Emergency Treatment
Chosun University Hospital's Emergency Care Center is operated based on efficient cooperation among all medical fields with prompt and accurate diagnosis in order to prepare for unpredictable emergency situations. Emergency Care Center offers treatment 24 hours and doctors are always on standby to offer prompt and accurate diagnosis and treatment of emergency patients.
Selected treatment
Patients can select their desired professor for treatment.

Our hospital is a general medical care institute has been designated as a Selected Treatment Medical Institute by the Ministry of Health and Welfare.
Selected treatment is applied when patients wish to receive treatment from a doctor with certain qualification and in case patients do not desire selected treatment, patients can receive general treatment.
For patients or guardians who desire selected treatment, please fill up the "Application Form for Selected Treatment".
Additional expenses incurred from selected treatment must be borne entirely by the patient or the guardian.
Application for selected treatment in case of second visit, selected treatment is applied as long as it is not withdrawn.
For detailed special fields of selected treatment professors, please refer to the "Hospital Treatment Information".
For inquiries related to selected treatment and inconveniences, please contact the Hospital Administration Team (Telephone: 062-220-3340).