Admission and Discharge Procedure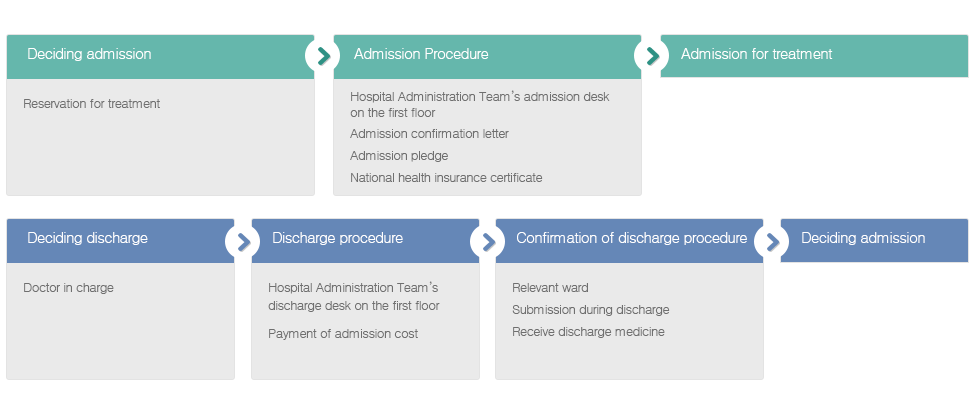 Deciding admission
When admission is decided from the doctor in charge at Treatment Department, please submit the Health Insurance Card, Treatment Card and I/D card at the admission desk located in the center of the 1st floor.
Admission procedure
Fill up the Admission Pledge located in the desk and submit it at the admission desk together with the relevant documents and you will be informed accordingly.
※ Documents required : Admission Confirmation Letter, Admission Pledge, Health Insurance Card
Admission treatment
If the admission documents and the treatment card are submitted to the relevant ward nurse, you will be informed on the hospital room and notices before treatment commences.
Deciding discharge
Once discharge is decided from the doctor in charge, please re-confirm the discharge confirmation with the relevant ward nurse.
(Discharge is decided one day before discharge.
Discharge procedure
After you are notified of the admission treatment cost, a discharge certificate will be issued after the payment has been made at the Hospital Admission Team on the first floor. Submit the discharge certificate to the relevant ward nurse, check the discharge medicine, notices and the next hospital visit before returning home.
Information on using the ambulance
1. Operation range of ambulance
Transporting emergency patients, transporting blood, transportation of clinical materials for diagnosis and treatment equipment, transportation of emergency medical staff, organ transplant and transportation of the deceased from sites such as accident sites or transportation of the deceased from other hospitals and our hospitals to our funeral parlor, transportation of patients with spinal disorder or with difficulty in movement and items required by the hospital when engaging in emergency activities related to other treatment.


2. Standard for ambulance costs
* General ambulance : Basic cost within 10km KRW 20,000 / Additional KRW 800 for every 1 km
* Special ambulance : Basic cost within 10km KRW 50,000 / Additional KRW 1,000 for every 1km
* Others : Free of charge when transporting patient from homes located in Gwangju City to the hospital (within 10 km)
Inquiries
For inquiries of patients within the hospital and for patients who require external emergency, please contact : (062)220-3129, 3280~1